I sometimes perform freelance organization jobs on the side. For an hourly rate, I help folks organize their closets, garages and homes. It brings me joy to root through "stuff" and leave it in better shape than I found it. They're happy, I'm happy plus I earned money doing what I enjoy.
Anywho

, a few years ago, I helped to organize a friend's home. She is a lady with a great heart, wealthy means and cool stuff so the work was fun. We pulled everything out of her "gift closet" to ascertain the keepers and tossers. She was quite

embarrassed

to find 5 very nice personalized gift Bibles with the intended recipient's name in gold leaf. The Bibles were to be high school graduation gifts. 5 years ago. She couldn't bring herself to give the 5 year old gifts to the intended recipients so donated them to my church's outreach program.
A few days later I read a church sign with the following message:
A small gesture
is more powerful
than a great intention.
It perfectly summed up the misplaced Bible experience and it became my New Year's resolution. Because the real reason we do nice things for others is because it feels good. Your recipient receives the gift of your

generosity

and you gain the warm and fuzzy feeling of sharing but it doesn't work if you cannot find the gift and the moment (day/week/month/year) passes.
Later, I spoke to my friend Dori. She sounded horrible. Dori felt sick and miserable. She had everything she needed so I asked if she would like some fresh satsumas my co-worker brought from his tree just that morning.
Well, how to carry them to her? I found a small plain paper bag in my desk drawer. Filled bag with satsumas. Folded over top of bag and creased. Punched 2 holes at top. Poked a satsuma twig through the holes to secure the closed flap. Left bag on friend's front porch.
Fast forward a day or two later when I received the nicest thank you note: she squeezed the satsumas into juice and felt the healing properties of citrus but she raved about the "presentation" of the simple bag with twig closure.
It was simple gesture that made her feel good.
Made me feel good.
AND my co-worker was happy that someone enjoyed the fruits of his labors.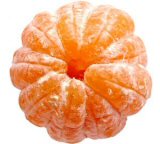 Win. Win. Win.