with black chalkboard paint. The refrigerator was white but running fine and brand new stainless fancy
schmancy
'frig isn't in my immediate future so what's a girl to do?
Lightly sand the slick white surface and paint the sides with 2 coats and the front with 4 -5 coats of leftover chalkboard paint and a mini roller. Oh My
Lanta
, wish I had a photo of the first coat. It was
na
-
asty
! So don't freak out if you try, just keep on
keepin
' with your bad self.
Helpful tip of the day: don't clean your mini roller after each coat. Wrap it tightly in cling wrap (Saran), stow inside a
ZipLoc
bag and store in your refrigerator until the next coat dries.
After reinstalling my white plastic door handles, I realized they looked like a turd in a punchbowl. Brought those to work and sweet talked the guys into bending some aluminum for me. The handles look like stainless and I love 'em!
HERE's
why I had chalkboard paint in the first place.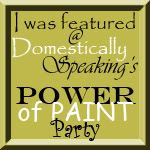 Go
HERE
to check out more painting projects!